MEAT & 2 VEG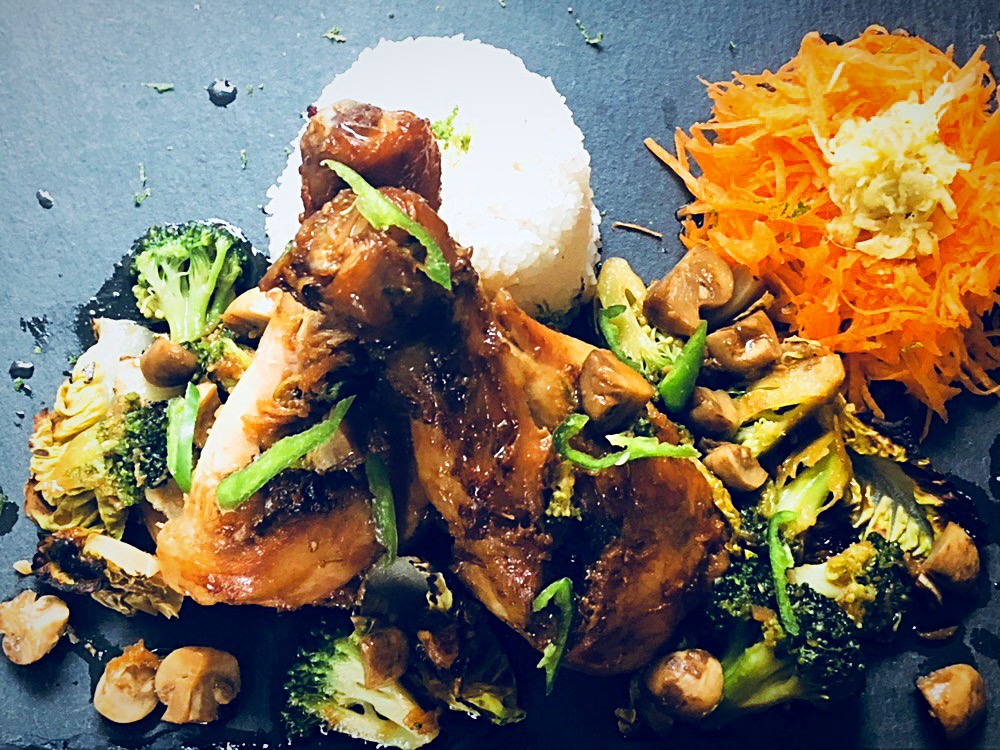 INGREDIENTS:
01. Chicken legs (I always go free range or organic)
02. Broccoli
03. Chestnut mushrooms
04. Carrots
05. Shallots
0.6 Basmati rice
0.7 Green chilles
0.8 Garlic
0.9 Ginger
10. Dark soy
11. Fish sauce
12. Sesame oil
13. Green peppercorns(crushed)
14. Sea salt
DIRECTIONS:
01. Grate garlic and ginger and add to bowel of crushed peppercorns, sugar, soy, fish sauce and tablespoon of sesame oil. Mix until it becomes a loose paste.
Top tip: add a splash of water if paste is too thick
Smother chicken legs with paste pull back the skin to make sure while leg is seasoned. Leave in fridge for a minimum of an hour, but for maximum flavour leave overnight.
Put rice into boil. I always bring to boil then rinse until water runs clear, then leave a little water lid on and temperature low. Leave to steam for further 15-20mins.
In a pan brown chicken legs on all sides, then add sliced shallots a splash of water and roast in over for 45 mins to hour.
Take chicken out and on a medium heat add quartered mushrooms and steamed broccoli. Cook for a further few minutes until mushrooms have softened and sprinkle sliced chillies on top.
Top tip: I always add a splash of water if the pan gets too dry you want the chicken legs coated and moist.
Serving suggestion: Serve with rice and a carrot salad topped with a hit of freshly grated ginger.