MEAT + 2 VEG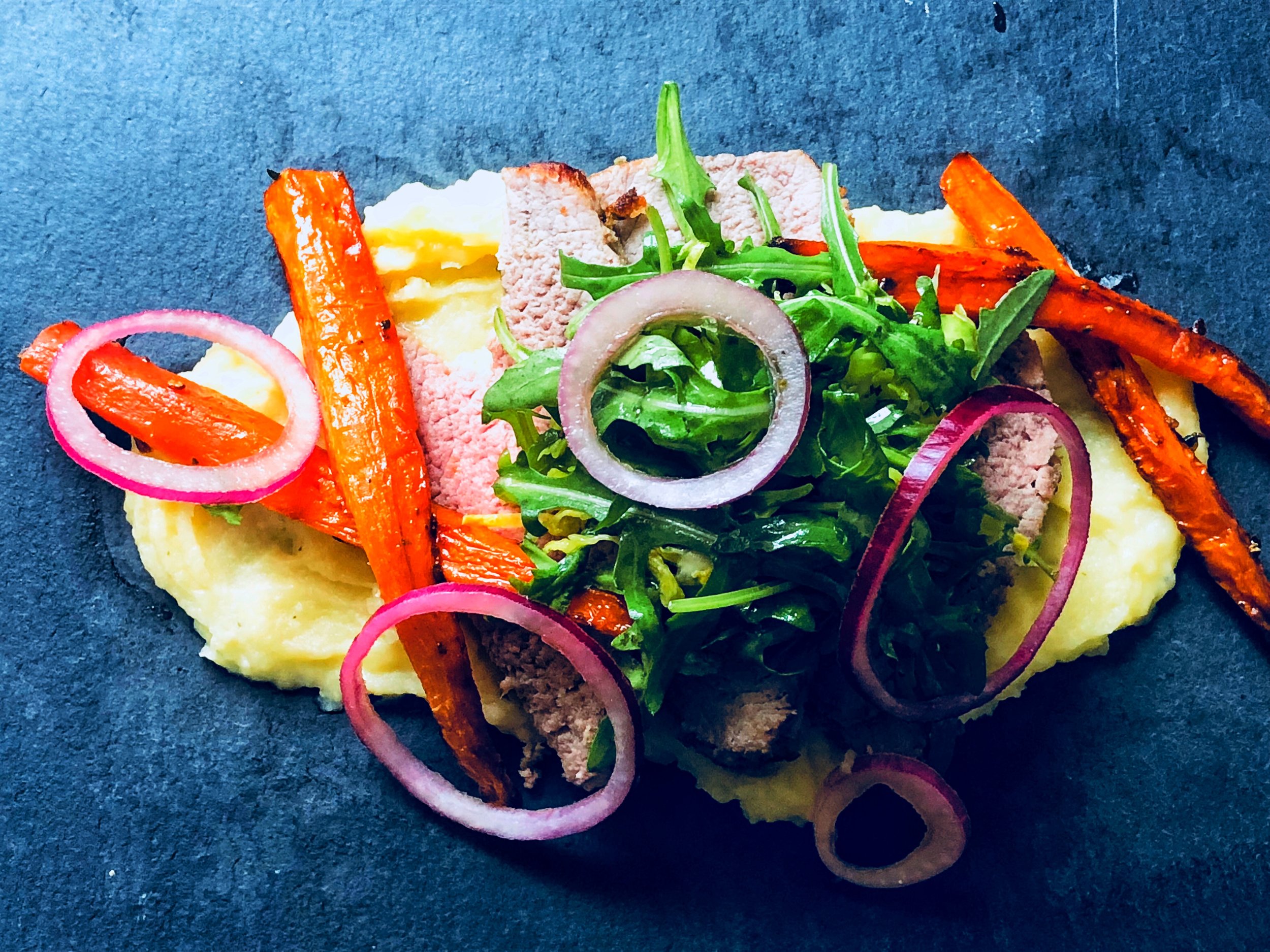 INGREDIENTS:
01. Beef joint (whatever your budget can afford. Just make sure it's got lots of fat running through it).
02. Maris piper potatoes
03. Carrots
04. Brussel sprouts
05. Wild rocket
06. Red onions
07. French garlic
08. Lemon thyme
09. Lemon juice and zest
10. Olive oil
11. Red wine vinegar
12. Sea salt
13. Green peppercorns
14. Fennel seeds
DIRECTIONS: MEAT
01. Mix crushed green peppercorns, sea salt, sprigs of lemon thyme, crushed garlic, olive oil and lemon zest until loose paste.
02. Rub paste all over beef joint
03. Place slices of lemon over the top, cover and place in refrigerator to marinade. Min of 1 hour better over night.
04. Remove beef from fridge, scrape off excess paste mix and brown on all sides in a hot pan.
05. Place paste mix at the bottom of baking tray, include slices of lemon then add browned beef to baking tray bake at 180 for 15 mins and then reduce heat to 160 for 30 (mid rare), 45 (medium) 1 h (well done)
06. Remove from oven, cover with foil and leave to rest for min 15 mins.
DIRECTIONS: 2 VEG
01. Stab Maris Piper potatoes (or good roasting potatoes) with folk place and on bottom shelf of oven for 1 h 30. Get potatoes on first a good hour before the beef.
02. Wait for potatoes to slightly cool and slice in half and scrape out cooked potato. Add to rice grater or mash with traditional masher. I like to use lots of butter and mix until smooth, no milk needed!
02. Clean and slice carrots (length way), season with sea salt, pepper and olive oil, add to baking tray roast with beef.
SALAD
01. Peel and Slice red onions horizontally about 0.25cm thick. Place in bowl, add 25mil of red wine vinegar and pinch of salt.
02. After 15 minutes add 1 tablespoon of olive oil.
03. Slice brussel sprouts thinly
04. Rinse and drain wild rocket, add brussel sprouts, fennel seeds, lemon juice, olive oil and pinch of sea salt and pepper and lightly mix.

SERVING: Slice roast beef and place on top of mashed potatoes, then carrots and then wild rocket salad. Use the roasting juices as a jus and don't forget the pickled onions, they're amazing!