MACARONI + CHEESE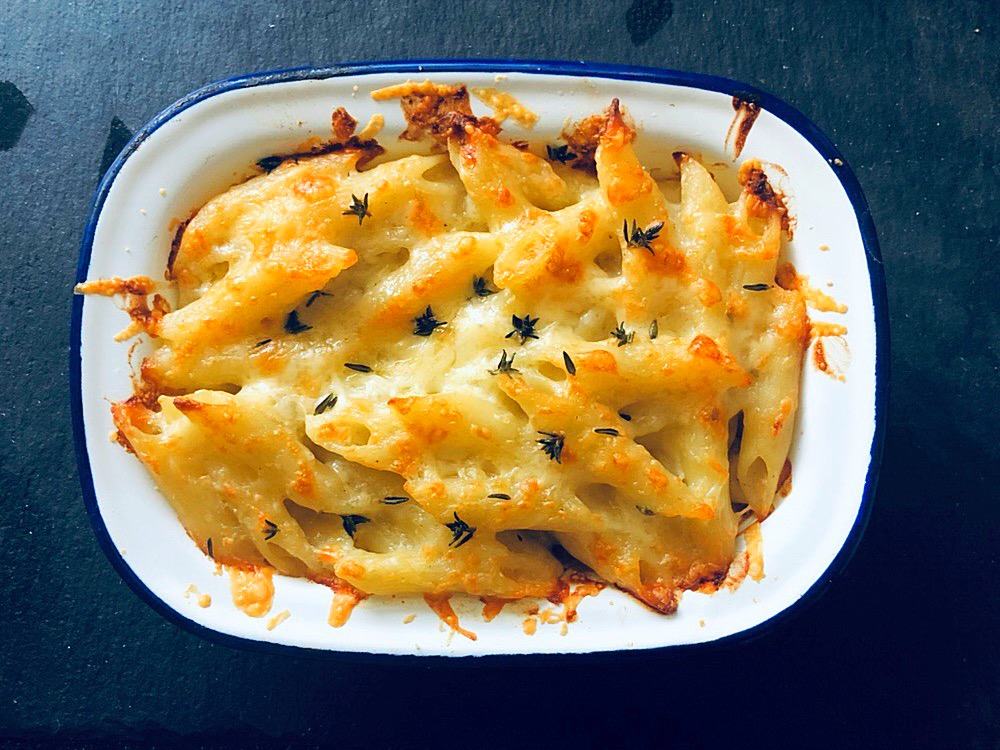 My bestie Jo said all the supermarkets were out of macaroni. We both instantly said at the same time, it must be #brexit.

But in my head I was thinking ummmm #Tesco always has pasta. Then I realised there's a whole world of macaroni cheese makers using those small pasta shells, hell they are called macaroni after all. But for me macaroni and cheese was always made with Penne pasta and ALWAYS baked. I said what I said and if you don't like it, blame my mum!
INGREDIENTS
01. Penne pasta 150g
02. Semi skimmed milk (100ml)
03. Plain flour (table spoon)
04. 25g salted butter
05. Mature cheddar 150g (grated)
06. Sea salt 1/2 teaspoon
07. Black peppercorns
08. Lemon thyme
DIRECTIONS
01. Pre heat oven for 15 mins at 160°
02. Fill a saucepan with water and bring to the boil, then add 100g of pasta and cook until soft.
03. Drain pasta, leave a little water and add butter, flour, salt, pepper. Stir until it emulsifies creating an instant roux cook for a few minutes before added 3/4 of the grated cheese.
04. Mix and place in a baking tray, sprinkle the rest of the grated cheese on top, with springs of lemon thyme.
05. Bake for 20 minutes on the medium shelf in the oven.

Serving suggestion: Eat with a fresh green salad and pickled onions.